Roseland, NJ – Brach Eichler Injury Lawyers is an experienced personal injury law firm located in Roseland, New Jersey. With 55 years of dedicated service to the community, the firm has established a proven track record of delivering exceptional legal representation to individuals who have suffered injuries caused by the negligence of others. The firm recently marked its milestone anniversary, coinciding with another remarkable achievement of recovering more than 425 million dollars for its clients.
Spearheading the firm's 55-year legacy of success is Edward P. Capozzi, a certified civil trial attorney lawyer and partner at Brach Eichler Injury Lawyers. He is highly regarded for his dynamic presence in court and meticulous attention to detail. Edward has dedicated his career to serving personal injury victims and has earned recognition and accolades for his efforts. In 2014, he received the Personal Injury Hall of Fame Award* from the New Jersey Law Journal for securing the state's largest product liability verdict. His success can be attributed to his deep understanding of the legal concept of proximate cause, a critical element in any personal injury case.
Brach Eichler Injury Lawyers has further solidified its position as a leading personal injury law firm with the recognition of Alex S. Capozzi, a certified civil trial attorney, as a Super Lawyers Rising Star*. This honor is bestowed on less than 2.5% of all attorneys in the state and is a testament to Alex's exceptional legal skills and dedication to his clients. His selection involved reviews from other attorneys, showcasing his reputation and respect among peers. In 2016, Alex made headlines for securing one of the top 15 largest jury verdicts in New Jersey, and he has since continued to deliver remarkable results, consistently securing top settlements and verdicts for his clients, ranking among the top 100 in the state each year.
Certified civil trial attorneys Edward and Alex Capozzi are part of a team of experienced attorneys at Brach Eichler Injury Lawyers, which includes Corey A. Dietz, Kristofer C. Petrie, Jeremy L. Hylton, and Daniel G. Leone. These attorneys have decades of combined experience in personal injury law and are committed to providing reliable and dedicated legal representation to residents of New Jersey who have been injured due to the negligence of others.
The attorneys at Brach Eichler Injury Lawyers have a deep understanding of a wide range of personal injury cases, including motor vehicle accidents, train and boat injuries, defective products, medical malpractice, slips and falls, catastrophic injuries, construction site accidents, workplace accidents, and more. They have honed their skills through years of successful practice and are dedicated to ensuring their clients receive the compensation they deserve for their injuries.
The Roseland personal injury attorneys offer personalized care and assistance to help clients navigate the financial strain of personal injury cases. They negotiate medical costs, liens, and billing and advocate for clients' rights and best interests. They conduct comprehensive investigations and are willing to take cases to court if necessary to ensure fair compensation. Through their skills, experience, and dedication, they have established a reputation as one of the top personal injury law firms in New Jersey.
Brach Eichler Injury Lawyers is located at 101 Eisenhower Parkway, Suite 200, Roseland, NJ, 07068, US. To schedule a consultation, contact their team at 973-319-7230. For more information regarding the services offered, visit the firm's website.
*Brach Eichler Injury Lawyers and Brach Eichler Injury Lawyers attorneys are honored to have been recognized with various awards. In order to best understand how the rankings or awards were determined, we have provided descriptions and the links below to each of the publications.
Click here to view our Awards and Honors Methodology page.
*No aspect of these advertisements has been approved by the Supreme Court of New Jersey.
Media Contact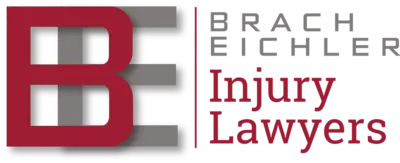 Company Name
Brach Eichler Injury Lawyers
Contact Name
Edward P. Capozzi
Phone
973-319-7230
Address
101 Eisenhower Parkway, Suite 200
City
Roseland
State
NJ
Postal Code
07068
Country
United States
Website
https://www.njlawresults.com/